With the 2016 award season in full swing, I can't help but be green-eyed monster jealous of the glitz and glam taking over Hollywood's red carpet at the Golden Globe Awards.
One of my personal favourites from the carpet has to be the silk slip dresses. With the likes of model Rosie Huntington-Whitely who rocked this style as she wore a sleek gown by Galvan. With pulled back hair and bold red lips, Rosie showed that neat grooming is the key to pulling off a modern take on the boudoir dressing. When I picture myself walking down the red carpet it would be in this, (well actually any dress worn at the Golden Globes). But this sort of style really offers a timeless elegance and a touch of sexiness you can't possibly go wrong with.
What I also loved was how many of Hollywood's favourite actresses who are 'taking the plunge' and embracing the new deep V-Neckline. I adore this risqué, dare to bare look. By looks of it so did Katy Perry, Kristen Dunst and Olivia Wilde who gave us something else to swoon over as they showed off some serious décolletage. From navel baring to the slightly more subtle.
Kirsten Dunst has to be my ultimate favourite in this bold style. Wearing a Valentino black velvet dress. This dress featured one of the lowest plunging V-Neck as it ended just before her bellybutton, being held together only by a few thin strings. But hey if you've got it why not flaunt it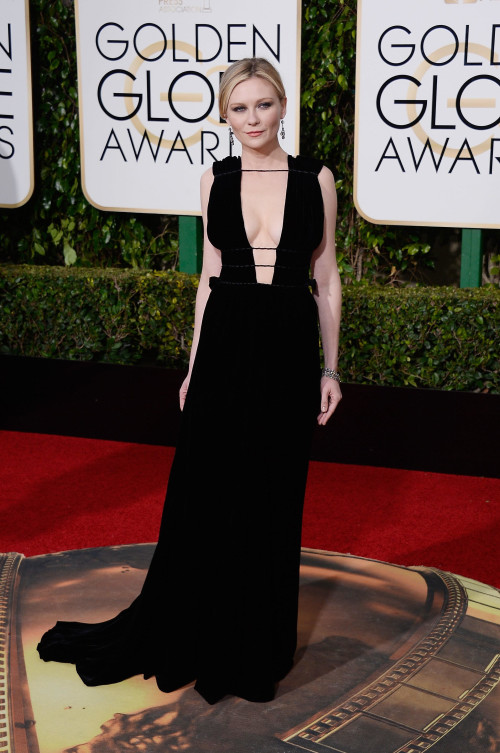 But if there was an award to who owned that red carpet, it would have to go to Jennifer Lawrence. This year she stole the red carpet with a stunning bright red Dior gown, paired with a sparkling diamond choker. Nothing indicates a Hollywood power player more than this cut out, sexy, no nonsense dress… my dream dress.
I want them all. Every dress on that red carpet. I'm looking forward to seeing what the Oscars has to offer (and to see if the beloved Leo finally gets his first Oscar).

Words by Sophie Brady